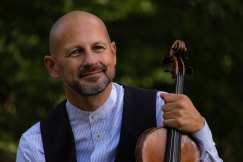 laurent albrecht breuninger
violin
Winning the second prize, the "Prix Eugène Ysaye" in 1997, Laurent Albrecht Breuninger was the first German violinist to be placed under the first three in the history of Brussels' Queen Elisabeth Competition. This award follows a remarkable line of prizes, which Laurent Albrecht Breuninger previously won in Brescia (1984), Belgrade (1986), Prague (1992), Vi-enna (1992), Berlin and Montreal (1995).

In the same year of his success at the Queen Elisabeth Competition, Laurent Albrecht Breuninger won the Composition Award of the Brandenburg Summer Festival for his own first string quartet.

Consequently, the long list of Laurent Albrecht Breuninger's recordings shows a special dedication to "violinist-composers": his first recital CD appeared in 1997 and contains his own "Passacaglia for solo violin", he recorded the complete works by Eugène Ysaye for violin solo, violin and piano (to be released soon) and for violin and orchestra (cpo), the complete works for violin/viola and piano by Georges Enesco (telos, with pianist Thomas Duis) and concerti by Bériot and Kreutzer (cpo). Laurent Albrecht Breuninger's re-discovering of the "Polish Paganini" Karol Lipinski gained special interest and acclaim in the international press. The recordings (cpo, together with the Polish Radio Orchestra) were listed as "Strad Selection", October 2006 and described as "breathtaking". Complete sonatas by Villa-Lobos will follow this year (telos), ), whereas next year will give occasion to Laurent Albrecht Breuninger's first adventure into historical interpretation: Sonatas by CPE Bach together with Piet Kuijken at the pianoforte (Hänssler).
Laurent Albrecht Breuninger made his debut as a soloist at the age of 12 with the Budapest Chamber Orchestra under the direction of Vladimir Spivakov at the Music Festival of Tours, France. Ever since, he performs as soloist and recital artist in festivals and venues internationally (Schwetzingen, Braunschweig Classix, Kissingen, Schleswig-Holstein and Mecklenburg-Vorpommern Festivals, Echternach, Kuhmo, Bath, Théâtre des Champs-Elysées, Paris). He has worked with conductors such as Peter Eötvös, Naoto Otomo, Alun Francis, Marc Sou-strot, Bruno Weil and Wojciech Rajski. In 2011, Laurent Albrecht Breuninger made his debut in Tokyo, playing with Tokyo Symphony Orchestra. Next season's plan includes performances at the Georges-Enesco-Festival in Bucarest and in Seoul, where he will be playing with the Korean Chamber Orchestra.

Of French-German origin, Laurent Albrecht Breuninger studied in Switzerland with Thomas Füri and completed his studies with the renowned pedagogue Josef Rissin. Working with the "legends" Aaron Rosand and Ivry Gitlis was an important influence to Laurent Albrecht Breuningers playing and personality. As a composer he was trained in Darmstadt with Toni Völker.

Laurent Albrecht Breuninger lives in Karlsruhe where he holds a position as a professor at the Music University.