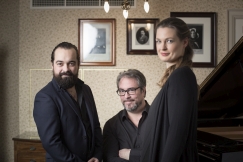 atos trio
Annette von Hehn, violin
Stefan Heinemeyer, violoncello
Thomas Hoppe, piano
www.atos-trio.de
"Three voices, one sound: The kind of pitch-perfect unanimity of phrasing, tone, feeling and interpretation that distinguishes the finest chamber ensembles."
(Detroit Free Press, United States)
Pianist Thomas Hoppe, violinist Annette von Hehn and cellist Stefan Heinemeyer have been conquering the world's major concert series together since 2003. Around the globe, the ATOS Trio is hailed by audiences and met with critical acclaim. From winning the Kalichstein-Laredo-Robinson International Trio Award, the gold-standard prize for trios in the US, to a prestigious recognition as "New Generation Artists" by the BBC. From prizes in London, Graz and Melbourne to concerts in all the major festivals and venues from Oceania to Carnegie Hall. The ATOS Trio pushes expression and dynamics to the limits, with its incredibly distinctive, warmly expressive and extremely unified trio sound, far beyond the comfortable, familiar, and expected.
"They were Austrians in Haydn, Czechs in Dvorak, and Russians in Shostakovich."
(O Estado de Sao Paulo, Brazil)
At great venues such as London's Wigmore Hall, Concertgebouw in Amsterdam, the Teatro Colon in Buenos Aires, the Sala Sao Paulo, Carnegie Hall or the Berlin Philhar-monic; at festivals such as City of London, Cheltenham, Budapest Spring Festival and Gilmore Michigan; in performances at the Schleswig-Holstein Music Festival, the Rheingau Music Festival, the Festspiele Mecklenburg-Vorpommern, or the Ludwigs-burger Schlossfestspiele.
On enthusiastically received CD recordings of classical and romantic repertoire (Bee-thoven, Brahms, Schubert, Schumann, Mendelssohn); in complete premiere recordings of Heinrich von Herzogenberg and Josef Suk; and most recently in a celebration of French, Russian, Czech and Viennese music (The French album, The Russian Album, The Czech Album, The Vienna Album). Their total dedication to the music, the joy, the almost magically differentiated interpretation set new standards.
"... One of the elite Piano Trios playing before the public today."
(The Washington Post, USA)